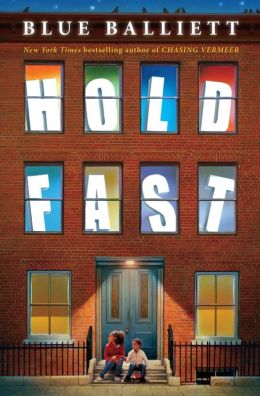 Hold Fast
From
Barnes & Noble
:
From NYT bestselling author Blue Balliett, the story of a girl who falls into Chicago's shelter system, and from there must solve the mystery of her father's strange disappearance. Where is Early's father? He's not the kind of father who would disappear. But he's gone . . . and he's left a whole lot of trouble behind.

As danger closes in, Early, her mom, and her brother have to flee their apartment. With nowhere else to go, they are forced to move into a city shelter. Once there, Early starts asking questions and looking for answers. Because her father hasn't disappeared without a trace. There are patterns and rhythms to what's happened, and Early might be the only one who can use them to track him down and make her way out of a very tough place.

With her signature, singular love of language and sense of mystery, Blue Balliett weaves a story that takes readers from the cold, snowy Chicago streets to the darkest corner of the public library, on an unforgettable hunt for deep truths and a reunited family.
Excerpt:
"...'Reading is a tool no one can take away. A million bad things may happen in life and it'll still be will you, like a flashlight that never needs a battery. Reading can offer a crack of light on the blackest of nights.'
Early looked carefully at her mother's face. 'You sound like Dash now.'
'Do I?' Sum smiled with her eyes, one of the saddest smiles Early had ever seen." (p.166)
With themes of everything from homelessness, mystery, words, puzzles, to family,
Hold Fast
is a book I cannot wait to share with my class. So much so that I am working on a bunch of activities to go with the novel. When they're done, I'll put them up in my
TpT store
.