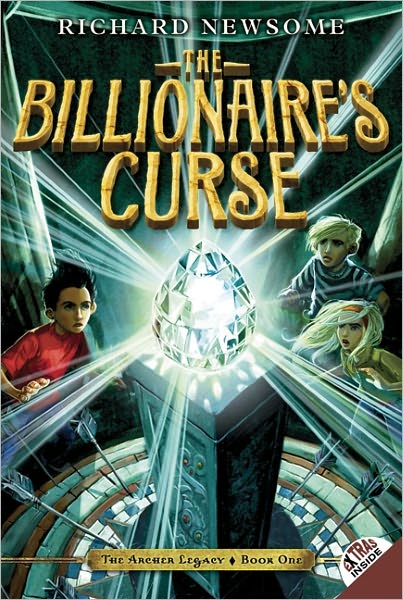 The Billionaire's Curse
Richard Newsome
April 2011
Gerald is a fairly ordinary thirteen-year-old living in Sydney, Australia with his fairly ordinary parents. Until his Great Aunt Geraldine passes away in London. Suddenly Gerald's hope of a holiday getaway with his best friend is suddenly dashed as he is whisked away to England for the funeral and reading of the will. Having never even heard of Great Aunt Geraldine, Gerald is stunned when he is named the heir to the bulk of Geraldine's vast fortune! Now owner of multiple homes, billions of dollars and even a private Caribbean island, Gerald soon discovers Geraldine was murdered - and he may be next! With the help of his new friends, twins Sam and Ruby, Gerald sets off to solve the mystery of Great Aunt Geraldine's death and save his own life in the process.
THE BILLIONAIRE'S CURSE reminded me of a great mystery story from my childhood! Think Nancy Drew or Trixie Belden with more action and adventure. There are no vampires, no witches, and no aspects of fantasy to detract from the mystery the characters face. And it's a great mystery full of twists and turns, excitement and danger that doesn't relent!
I cannot recommend this book enough. This is the first in the Archer Legacy Series; I'm looking forward to the other two in the series. Even the most reluctant readers - especially boys - will be caught up in the story and not be able to put it down! I don't know if I can see this as a read aloud, however; there is some moderate graphic violence that may not be appropriate for every child in my classroom. (It's no worse than what they see on TV and in movie, but I don't want to assume every parent would be okay with it.) But I do see this book as the book that is passed from student to student throughout the year. I
must
definitely buy at least a couple of copies of the book for my classroom library!