Today I went to Half-Price Books. I really need to stay out of there... but some days I just can't resist. Turns out, today was a great day to give into my craving for cheap and new books; HPB has massive amounts of kids' clearance tables out right now!! I do
want it on the record tha
t I did
not
buy any adult fiction for myself - even though that cart was calling my name, and there were at least three books that caught my eye and tried to come home with me. I was strong. I will not go back.
Maybe
.
Anyway, by the end of my hour in the store, I had amassed a collection of about fifteen new-to-my-library books and three or four that I just needed one (or three) more copies of for my classroom library. (I can't seem to keep copies of Love That Dog on my shelves! I can't imagine that kids are that much in love with it; when they review it, most of them tell me it's about a boy whose dog dies. Um... and??)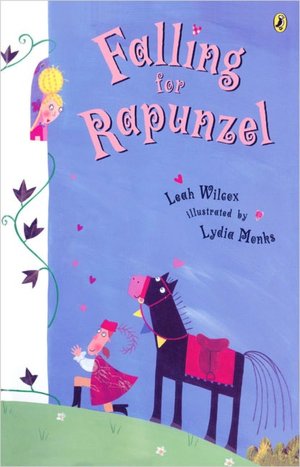 Falling for Rapunzel
Leah Wilcox
illustrated by Lydia Menks
Two of the new stories I brought home fit in with my fairy tale unit, and I read them right away. FALLING FOR RAPUNZEL by Leah Wilcox is a delightful picture book illustrated by Lydia Menks. Written in a sing-song rhyme that lends itself to oral reading, it tells of a Rapunzel who is overheard whining about a bad hair day. The prince mistakenly thinks she is wishing to be rescued and calls up to her to 'throw down your hair!' Being so far away, Rapunzel can't quite hear the prince and instead throws down her underwear! The mistakes continue with hilarious consequences.
What kid doesn't love a book in which underwear lands on some poor guy's head? I know the 5th graders will get a giggle out of this book. I'm only sad that I should wait until next spring to share it! This was a super fun book with silly pictures to go along with it.
Cinderella (as if you didn't already know the story)
written and illustrated by Barbara Ensor
July 2011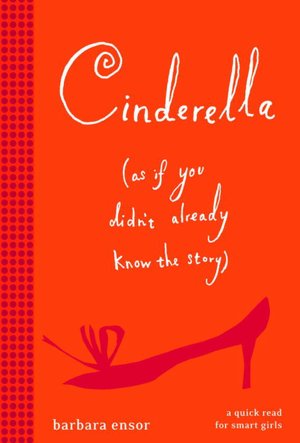 This second fairy tale was cute, too. Barbara Ensor has rewritten the original Cinderella with some endearing twists. At about 113 pages, this story is perfect for young readers who like predictable text and are ready for a short chapter book.
In CINDERELLA (AS IF YOU DIDN'T ALREADY KNOW THE STORY), the poor young maid writes letters to her recently deceased mother. Through her letters, we learn more about Cinderella's thought and emotions that we are usually given.
The illustrations are black and white silhouettes that are cleverly created and positioned on the pages. Paired with crazy and fun fonts, the overall look of this book drew me in as much as the story.
This would be a great book to compare with the original. The differences are few but really change the reader's understanding of the characters' motivation. Perhaps a good old-fashioned Venn? I think I will create a center with the Venn cards already created and let the students sort them. (Hula Hoops - here I come!) It'll be interesting to see who are my careful readers; these two books are quite similar. Students who don't read carefully could be misled by the nuances.