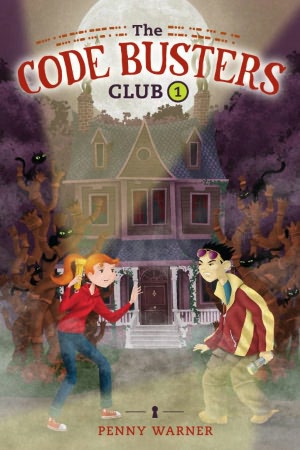 The Code Busters Club #1: The Skeleton Key
Penny Warner
September 2011
Cody, Quinn, Luke, and M.E. are middle school students who have one thing in common: they love writing, deciphering and working with codes. Strengthening their code busting skills and turning them into more than a simple hobby, they create a club - complete with secret clubhouse and ever changing passwords.
When a nearby house catches on fire, the Code Busters Club is on the case. They are determined to find out what caused the fire that landed the Skeleton Man, their strange, reclusive neighbor, in the hospital. Soon they are embroiled in the midst of a real life mystery with codes leading every step of the way!
In this very cleverly written series, readers are encouraged to solve the puzzles along with the Code Busters. The Code Busters must decipher all kinds of codes - everything from American Sign Language and Morse Code to Consonant Code and Semaphores. (I didn't know what it was either!) Don't worry, though, there are decoders and answers at the back of the book.
I loved this book! The concept is clever and lets the reader be the detective along with the characters. The mystery is fast-paced and intriguing, and the characters are likeable and daring. As I was reading this, I kept thinking about all the novels I love that have to do with language, words, and how people communicate and decided this would be a great read aloud (showing the codes on the document camera) during a guided novel study of such books as FRINDLE (lower level) and NO TALKING by Andrew Clements, THE WORD EATER by Mary Amato, and for my advanced students THE PHANTOM TOLLBOOTH by Norman Juster.
Of course this would also be a great tie in to our annual Mystery Week in fifth grade, but I don't think I can fit one more thing into that week!