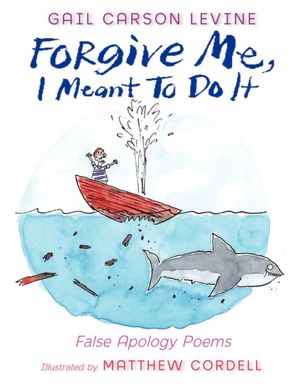 Forgive Me, I Meant to Do It
False Apology Poems
by Gail Carson Levine
Matthew Cordell (illustrator)
March 2012


From the book:
"This Is Just to Say
If you're looking
for an nice
happy book
put this one down
and run away
quickly
Forgive me
sweetness
and good cheer
Inspired by William Carlos Williams's famous poem "This Is Just to Say," Newbery Honor author Gail Carson Levine delivers a wickedly funny collection of her own false apology poems, imagining how tricksters really feel about the mischief they make. Matthew Cordell's clever and playful line art lightheartedly captures the spirit of the poetry. This is the perfect book for anyone who's ever apologized . . . and not really meant it."
Each year my 5th graders complete a poetry book. But at my school, they have done all the formula poems (haiku, cinquain, etc.) in third grade, so I just focus on word choice, figurative language and playing with English. By the end of the unit (done in April - National Poetry Month), each student has written over a dozen poems and created a cover page which I bind into a keepsake book. And every year, the best poems are by students who don't get a lot of chance to feel successful! It's a huge hit.
FORGIVE ME, I MEANT TO DO IT is a great addition to that unit. The poems I love best are from the point of view of a literary character, like this one:
This Is Just to Say
I have shortened
my nose
with your saw
because
honestly
telling lies
is so much fun

Forgive me
I don't care
about becoming
a real boy
Super clever, right? I know!
I love, love, love the pencil drawings that go with each poem, but the best part of the whole book is the cleverly place Introduction in which Ms. Levine persuades readers to become writers of their own false apology poems! And isn't that what we all strive for? Genius.