I'm linking up with Lifelong Learning to share some of my favorite books to teach my little writers how to find their voice in their own writing. I have two favorite picture books that I share with my students near the beginning of the year.
I'm sure many of you are familiar with this book, but if you have never read Math Curse by Jon Scieska - you MUST! When the main character's math teacher, Mrs. Fibonacci (cool name!), says everything can be thought of as a math problem, suddenly everything - from dressing in the morning to lunch at school - becomes a major problem! I love reading this aloud to my students with increasing panic in my voice. It is obvious that the Curse causes more and more stress on the little girl as the day progresses, and the panic she feels comes through quite clearly. I like to share this on the first day of school so my kids will "know what they can expect!" *insert evil laugh here*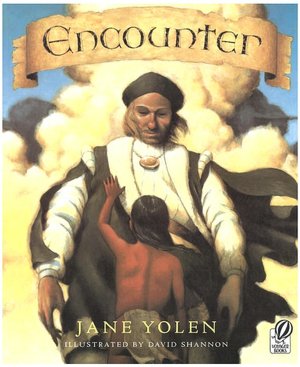 This second book I also use near the beginning of the year. Encounter by Jane Yolen tells of Christopher Columbus' initial meeting with the Taino Indians. The twist is this story is told entirely by a young Taino boy. In it, he describes the strange men "who are not men" and their canoes. He is terrified of the strangers and describes their meeting in a far different way than most people imagine it. I share this story with my 5th graders after we have read all about Columbus' great adventure and finding a whole new world! My students are amazed to have their vision of a national hero altered so drastically and so quickly. We have great discussions about right and wrong, fact and fiction, and point of view. I love this lesson, and every year, I get choked up when I read Encounter to my class. (I can't help it; I'm a total sap!)
I could list tons of books that have great voice. I often point it out as we read aloud or as I'm reading to them. I recently finished two books (In Between by Jenny Jones and Okay for Now by Gary Schmidt - stay tuned for reviews of both) that aren't necessarily appropriate or interesting for 5th graders, but I can't wait to share parts of the stories with them to illustrate finding your voice.
So what are some of your favorite books to teach voice? I can't wait to see what others use and get new ideas!